Anita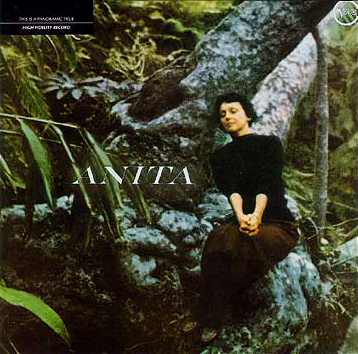 You're The Top
Honeysuckle Rose
A Nightingale Sang in Berkeley Square
Who Cares?
I Can't Get Started
Fine And Dandy
As Long As I Live
No Moon At All
Time After Time
I'll See You In My Dreams
I Fall in Love Too Easy
Beautiful Love
Spotify
This is debut release of The original Verve Records. (Released in 1956) Orchestra and Arrangements by Buddy Bregman. Currently available as Verve Japan release. It is not availble as a domestic (US) release. It is beautifully packaged in a mini-lp format. Cover photographed by Alex de Paola. Anita called this album cover – "Anita under Water" and was one of her favorite of all her recordings.
Album notes from the original LP:
Few vocalists in our time merit the compliment of "singer's singer" so thoroughly as Miss Anita O'Day. It is a double-sided compliment, of course.On the face of it, the phrase "singer's singer",which is to say one very much admired by others in the trade listeners. It can also mean something infinitely more subtle'that the people who have been hearing the singer (outside of the other singers) haven't.
With Anita, the stuff is there, it's mellow and it's waiting. And, with this album at hand, all anyone need do is keep the ears open. Open wider, at that, than when listening to the millrun of popular singers around today since there is so much more to hear. For one thing, not only does Anita O'Day create an extra-ordinarily happy sound, vocally, she believes firmly in telling a story in her songs, and in singing good songs which have worth-while lyrics.
To pursue this further, if you discard the occasional fluke, good songs with worthwhile lyrics come from the top rank of composers, which explains their presence on this record. The songs here are ones which have lasted and which will be with us when all the three-week "hits" have tumbled out of mind forever.
It's pertinent to note that these songs have verses as well as melodies and since the verses help tell the story more effectively (and are often pretty to hear) Anita sings them, too.
Through the years from the time when she was emerging from Chicago's Schurz High School and singing with Stan Kenton and Gene Krupa and turning out such best-selling records as "Her Tears Flowed Like Wine," Miss O'Day has had an enviable reputation for a singer with a beat. This affinity for the beat, along with a highly individual manner of phrasing and the pleasantly unexpected accents and pauses, is put to god use, to begin with one of the finest songs Cole Porter ever turned out- "You're The Top"
Two other durable hits from Broadway shows are included here-"Who Cares?" from "Of Thee I Sing" and "Fine and Dandy" from the musical of the same name- as well as " I Can't Get Started," from the Vernon Duke-Ira Gershwin smash from a "Ziegfeld Follies" movie. Another standard tune, "I'll See You in My Dreams," is sung uptempo in contrast to its usual reading as a somewhat dreamy (and in some instances, dreary) ballad-not only that, Anita seems to have a smile that turns up the corner of her voice and this is as insinuating as it is appealing. "
Her rhythmic style to one side, Miss O'Day
For this you can credit Buddy Bregman (like Anita a native of Chicago), who arranged the music and conducted the orchestra for these sessions in January, 1956. Bregman"
Here, to accompany Miss O'Day, Bregman has assembled some of the foremost musicians in Hollywood: Paul Smith, Piano and Celeste; Barney Kessel, guitar (Courtesy Contemporary Records)(Smith and Kessel take particularly notable solos on "Who Cares?", "As Long As I Live," and "Beautiful Love"); Joe Mondragon, bass; Alvin Stoller, drums; trombonists Milt Bernhardt, Cy Zentner, Joe Howard and Lloyd Elliot; Corky Hale, harpist; and an outstanding string section.