All The Sad Young Men with Gary McFarland's Arrangments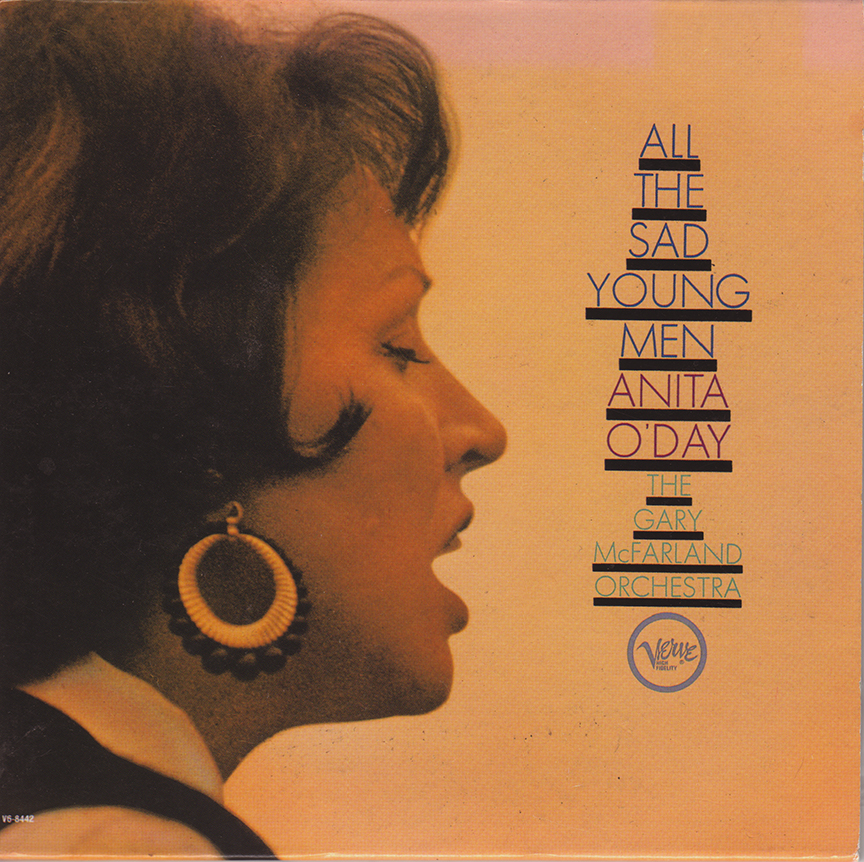 BOOGIE BLUES
YOU CAME A LONG WAY FROM ST. LOUIS
I WANT TO SING A SONG
A WOMEN ALONE WITH THE BLUES
THE BALLAD OF ALL THE SAD YOUNG MEN
DO NOTHIN' TIL YOU HEAR FROM ME
ONE MORE MILE
NIGHTBIRD
UP STATE
SENOR BLUES
The original lp liner notes:
The thing about Anita O'Day is that she always sings jazz. And what makes her singing always jazz is her improvisation. She takes a musician's liberty with phrasing, harmony, and rhythm, and does it all while singing the lyrics that still manage to make sense.
This album is the case in point. It is Anita she is today. Not the Anita who punched out the vocals on Gene Krupa's band, not the Anita who sparked Stan Kenton's band, not even the Anita who sauntered onto the stage at the Newport Jazz Festival in the 1958 and stood that jazz-jaded audience on its head. This is a different Anita O'Day in that she has gone beyond those Anitas. Today, as you'll hear she is singing with greater sophistication, assurance, and acceptance than ever before.
This selection of material is growing increasingly personal. She is singing songs that haven't been done to death by other singers, and an occasional standard that she has taken over as her own by the sheer power over style.
Her uncanny sense of time is leading her into a more complex and daring improvisation in that area. And she is still going further and further out on that limb of harmonic improvisation, but with such assurance that the delight of a performance is not whether she will land on her feet, and how she land her feet.
Her style is her own, practiced and polished through some 20 years of singing. Her landmarks are also landmarks in vocal jazz: Let Me Off Uptown, Boogie Blues, and That's What You Think with Krupa's Band, and Hi Ho Trailus Boot-Whip on her own, and Her Tears Flowed Like Wine with Kenton, Sweet Georgia Brown and Them There Eyes, again on her own.
And her comeback has been one of the most dramatic and rewarding in current music. She slid from popularity and climbed back to an even greater popularity in an era when good music was a detriment to success and when a good jazz singer might just as well have gone into selling soft goods for all of the financial good it might do her. Anita built her new career step by step, appearance by appearance, record by record, and without changing her ways or compromising her style.
Where she goes from here depends solely on her originality and individuality. To date, there is been no lack of either quality in her make up.
Supplying the music on this album is the most modern sounding orchestra Anita has ever had behind her. The songs were arranged and conducted by Gary McFarland also wrote three of them. At age 27, McFarland has brought a refreshing new sound to the recording studios. He has studied at the Berkeley School in Boston and at the School of jazz in Lennox, Massachusetts. Gary has written for the Gerry Mulligan Concert Jazz Band, and, leading his own orchestra, has presented a "jazz version" of a Broadway show in his album, "The jazz version of 'How to Succeed in Business without Really Trying.' "
McFarland's conceptions are original. His voicings are fresh. His sense of humor and his willingness to take a chance are evident in practically everything he does. On this album, he complements Anita's personal style with big band arrangements that avoid placing her out in front of an orchestra, but rather integrate her into the overall fabric of sound in each selection.
" I worked things so they were right for her range, " Gary noted. " She has a lot of strong areas. . . Her phrasing and her time, for instance. I tried writing for these strong points, and utilizing her as an important part of the band. "
That McFarland succeeded will be evident as the album is played. It's Anita, new and fresh and stimulating but she's not new for the sake of being different. She's just moving ahead in a field where she's number one.
About The Music :
Boogie Blues–when Anita sang this one with Gene Krupa's band back in the mid 1940's, it was a smash hit. Notes the McFarland treatment of the opening boogie figures of the original, and his " jazz waltz " setting. Anita's vocal regenerates the tune, and brings it up to 1962. Phil Woods is the altos soloist.
You Came a Long Way from St. Louis–another tune from the 1940's, this one was never taken in the tempo sings it. In her hands it becomes a sensitive biting ballad. Phil Woods again handles the solo assignment.
I Want to Sing a Song. –A bright McFarland original with lyrics by another talented woman in jazz Margo Guryan, this one displays Anita's supple lyrics sense. Walter Levinsky blows the opening clarinet passage.
A Woman Alone with The Blues–Anita involves herself easily with this lightly swinging song, steadily pushing the rhythm along. Phil Woods plays the jazz clarinet.
The Ballad of All the Sad Young Men –Tommy Wolf and Fran Landesman wrote this one, a song rapidly becoming a standard in the repertoire of sophisticated singers. Anita gives it very sensitive treatment without losing any of the pulse of jazz or the the feeling of the lyrics. Barry Galbraith's guitar is heard in the important solo role.
Do Nothin' Till You Hear From Me–The presence of composer Duke of Wellington is felt in every bar of Mc Farland's bright arrangement of this standard. Anita throws out all of the accepted way of singing this one and gives it her own a unique treatment. Bob Brookmeyer takes the trombone solo. Note the Ellington-ish voicings in the band, and the bright twist Anita gives the last line.
One More Mile-Anita's time makes this track a joy. Solos are by Hank Jones on piano and Herb Pomeroy on trumpet.
Night Bird–An unusual song penned by jazz-man Al Cohen and Kitty Malone, this finds Anita singing the first chorus as a soft ballad then the second as a swinging tune. Zoot Sims solos on tenor.
Upstate–Anita scatting at a bright tempo–what more can be said about this one? The "Willie" Anita cues is trombonist Willie Dennis the soloist.
Senor Blues–Horace Silver's tune receives appropriately funky treatment from both band Anita. She seems to be playing rather than singing her vocal. Jerome Richardson takes the tenor solo. Note how Anita fits herself to the brass section.
Notes by DOM CERULLI