An Evening with Anita O'Day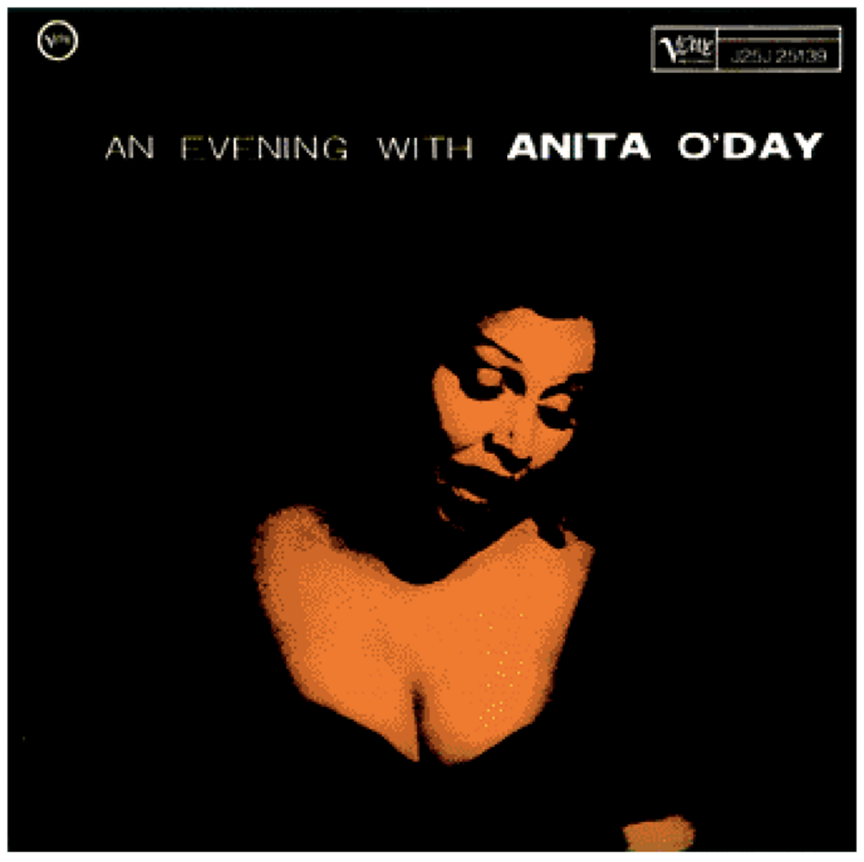 If a jazz singer ever was, Miss O'Day is that singer. This you may be sure, is employing the term by true standards, which is to say not those of show business at large. By those standards, Al Jolson was a jazz singer and so, for that matter, was Georgie Jessel (!) and even, if the movie be recalled, was Danny Thomas.
Well, words have different meaning to all men and nothing will ever change that. In the case of MissO'Day, however, she hews to a very definite line that extends from Louis to Ella to Roy to–name your own. But jazz singer is the word for Anita.
On these sides, for instance, Miss O'Day sings a number of songs, among which are two ballads –"The Man I Love" by George and Ira Gershwin and Johnny Green's "I Cover the Waterfront" – and these get a treatment which only a jazz singer could provide. It is not a jazz beat, certainly, for the ballad base of the tunes is unchanged; it is something more – an interpretation and an approach both to lyric and melody that gives these songs, in Anita's, a very pronounced jazz feeling. On the other hand, "Anita's Blues" with words and music by Miss O'Day herself, is a good example of the jazz singer going to the roots of her craft. "Anita's Blues" follows the traditional blues form although, as you might well expect from Miss O'Day, it is presented in a style as modern as it can be. In a more light-hearted groove, Anita sings two Cole Porter gems – "Just One of Those Things" and "From This Moment On" – to serve as illustration what results in a union of the first-rate songwriter and singer; the same may apply to "I Didn't Know What Time It Was" a Rodgers-Hart evergreen and "You're Getting to Be a Habit With Me", by Harry Warren and Al Dubin.
Anita O'Day is a native Chicagoan who established the foundation of her career in that city by singing with the Max Miller unit at the old Three Deuces. She went on to be the featured vocalist with Gene Krupa's band and later with Stan Kenton in the mid-1940's. It was while Anita was with the Kenton organization that she scored her most wide-spread successes with recordings of "And Her Tears Flowed Like Wine" and "Tampico". After a brief return to the Krupa band, she has since worked in most of the nation's top jazz clubs as a single.
Miss O'Day is accompanied
by Arnold Ross, Piano;
Barney Kessel, Guitar;
Monty Budwig, Bass;
Jackie Mills, Drums on:
Just One of Those Things
Gypsy In My Soul
The Man I Love
Frankie & Johnny
Miss O'Day is accompanied by Bud Lavin,
Piano; Monty Budwig, Bass;
John Poole, Drums on:
Anita's Blues
I Cover The Waterfront
I Didn't Know What Time It Was
Let's Fall In Love
Miss O'Day is accompanied by
Jimmy Rowles, Piano;
Tal Farrow, Guitar; Leroy Vinnegar,
Bass; Larry Bunker,
Drums on: You're Getting To Be A Habit With Me
From This Moment On
You Don't Know What Love Is
Medley:
There'll Never Be Another You
Just Friends