Anita O'Day with Stan Kenton
Only available via Amazon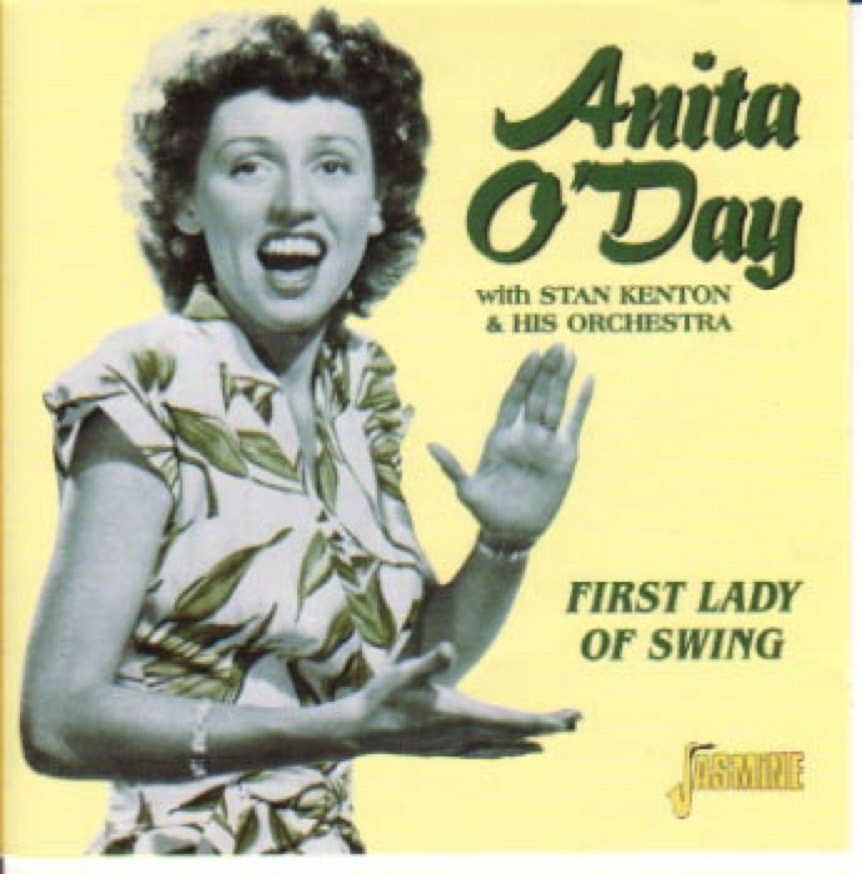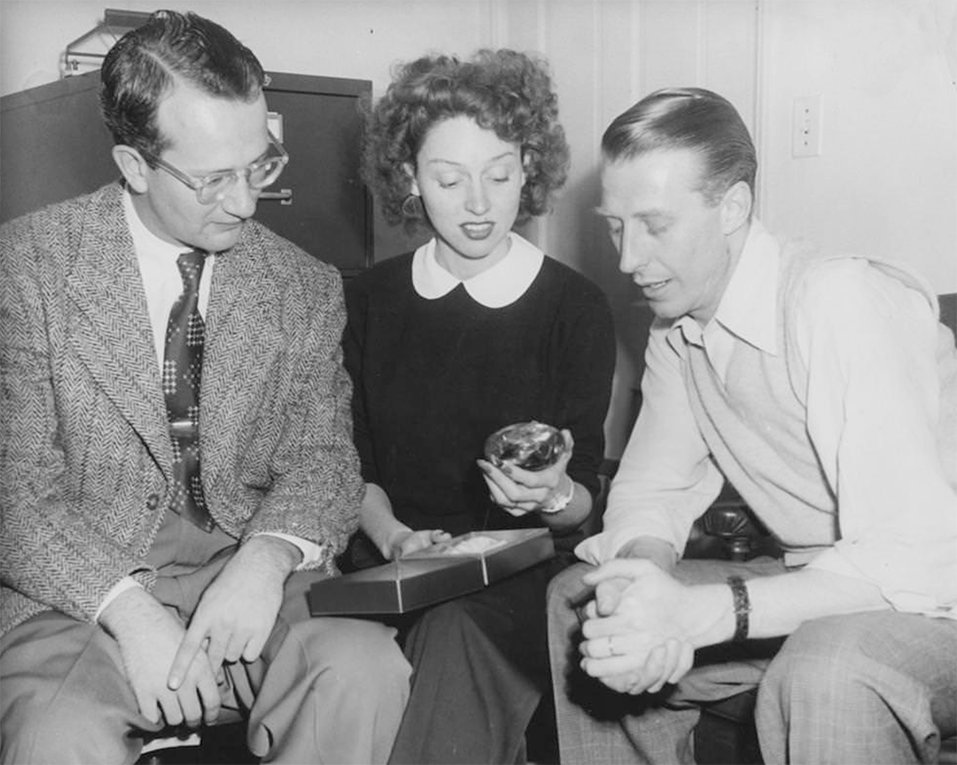 JASMINE JASCD 367
(This cd is an illegal bootleg out of the UK. It is not released by the owner Capitol EMI)
This is a partial collection of the great work that Stan Kenton and Anita did circa 1944. In Anita's Autobiography, "Hard Times High Times", She reflects back quite a bit about working with Stan vs. Gene Krupa. It is quite fascinating.
Ride On
Build It Up
I Lost My Sugar in Salt Lake City
You Betcha
In A Little Spanish Town
Mad For A Pad
And Her Tears Flowed Like Wine —- Spotify iTunes Deezer
Gotta Be Gettin'
Straighten Up and Fly Right
Tabby The Cat
Wish You Were Waitin' For Me
The Lady In Red
Are You Livin' Old Man?
Sing The Blues
Special Delivery
I Want A Grown Up Man
Travellin' Man
Back in those days, most featured performers in the band business had a tag, a slogan, and Anita O'Day's first billing with the Stan Kenton orchestra was 'A Bombshell In Modern Music'! Fortunately, this was soon replaced by the far more appropriate 'First Lady of Swing' – appropriate because while most of the singers who worked with Kenton over he years were more or less 'unknowns' when they joined him, Anita was different. In 943, after two years as featured vocalist with Gene Krupa's band, touring, broadcasting and making big hit records like "Let Me Off Uptown", Anita was one of the top band singers in the United States. Despite this success, by the time she left Krupa she felt that she had probably gone s far as she could as a band singer. She had been happy with Gene's band but now she as married and she was disenchanted with the endless strings of one night stands that ere an inescapable reality of every band vocalist's life. No, she wanted to stretch her musical wings and go out on her own – and for this she needed someone to manage her affairs: enter Carlos Gastel. Anita later described Gastel as a manager "who was on an artistic rather than a monetary kick" and certainly he had an impressive array of brandnew, quality talent on his books, including Nat'King' Cole, Peggy Lee, Mel Torme and Stan Kenton. Carlos set up a theatre tour for Anita as a single but, when it was over, greeted her with the news that Stan Kenton needed a singer and that she should take the job. Stan was enthusiastic, Anita had doubts. She had not been entirely happy with her debut solo tour but she had no wish to re-run the Krupa experience; furthermore, she fretted, she and Stan had very different musical outlooks. Carlos was implacable, and persuasive. It would be good for Anita, it would be good for Stan, "Two geniuses – you'll make it work," he insisted, and he won the day. By the end of April, 1944, Anita was on he Kenton payroll and a few days later Stan, Anita and the orchestra were in the studio often contained songs that were not otherwise available to the public.
The programme kicks off with the driving beat of "Ride On", Anita's spirited singing ably supported by John Carroll's trumpet and Stan's piano, and "Build It Up-, arranged by Ken Hanna who, incidentally, was to continue writing for Stan on and off until well into the 1970's. The tempo slows down for "I Lost My Sugar In Salt Lake City-, unusually so, because most of Anita's Kenton repertoire was up-tempo, but picks up again for "You Betcha", a wartime song in which Anita pledges fidelity to her absent soldier boyfriend – this time it is Karl George on trumpet – and "In A Little Spanish Town", one of Stan's early musical excursions south of the border. Anita's first month with Stan included recording two songs which were to have very different destinies. The first, "I'm Going Mad For A Pad", which features Dave Matthews' tenor sax, would remain unissued for well over a decade while by October, 1944, the other, "And Her Tears Flowed Like Wine", was No. 4 in Billboard magazine's charts. It was Stan's first hit record and the song was covered by both Ella Fitzgerald and the Glenn Miller Orchestra, as well as being featured in the film "Two Guys From Milwaukee". That was still in the future as Stan, Anita and the orchestra set out on a wide-ranging tour of the United States, pausing briefly in New York City to record "Gotta Be Gettin'", a song written by Morey Amsterdam which had been part of Anita's act on her tour as a single. "Straighten Up And Fly Right" -the song which put Nat Cole on the musical map in a big way – is a genuine rarity. Part of a broadcast from the Tune Town Ballroom in St. Louis, it is the only known recording of this song by Kenton and is released on this JASMINE CD for the first time ever. In late November the orchestra returned to Los Angeles for a season at the Hollywood Palladium, from where frequent broadcasts were aired, and it is from these shows that the next five selections come, starting with "Tabby The Cat", recorded on the opening night. "Wish You Were Waiting For Me" is a rare chance to enjoy Anita's ballad stylings – at that time, almost all Stan's ballads were performed by his male singer, Gene Howard – before she swings joyously through "The Lady In Red" aided and abetted by a sparkling trumpet solo from John Carroll. After re-visiting the "Little Spanish Town", Anita sings her current hit, "And Her Tears Flowed Like Wine", which by now – probably at the behest of the radio networks -had revised lyrics which softened the hard-bitten, raunchy flavor of the original. The second half of the line: "His wife then draped herself in black / that showed her figure fine" had become "at last she felt right fine", and so on. "Gotta Be Gettin"' is the last of these Palladium performances by the 'First Lady Of Swing', with Anita sounding even more assured than she had on the earlier recording of this number. The remaining songs are all studio recordings made during or immediately after the Palladium booking, starting with "Are You Livin, Old Man?" (it is John Carroll's muted trumpet) and "Singing The Blues", in which Anita is joined at the solo mike by trumpeter Karl George. Next up is a song that Anita herself wrote, "Special Delivery", and "Tabby" 'the very solid cat' takes another bow. The two closing songs offer a chance to hear Stan's piano; first solo, as he sets the scene for Anita's patriotic "I Want A Grown-Up Man", and then providing a rolling, bluesy support for "Travellin' Man", perhaps a prophetic title, because within weeks Anita would be leaving Stan and traveling off on her own solo career, a career with its ups and downs, perhaps, but one which was to keep her at the forefront of jazz singing for decades.
Musically, Anita was a free spirit and, in retrospect, had probably been right when she had felt that she and Stan had different musical visions. Nevertheless, her Kenton days produced a major hit record and won for her the Downbeat award for top girl band vocalist and a New Star award in Esquire magazine. Some forty years on, in her biography "High Times, Hard Times", Anita recalled: "Stanley's musical concept and thinking exposed me to another way of using my voice. The truth is Stanley and I respected one another. He went out of his way to make me happy."
-Tony Cox, January 2000