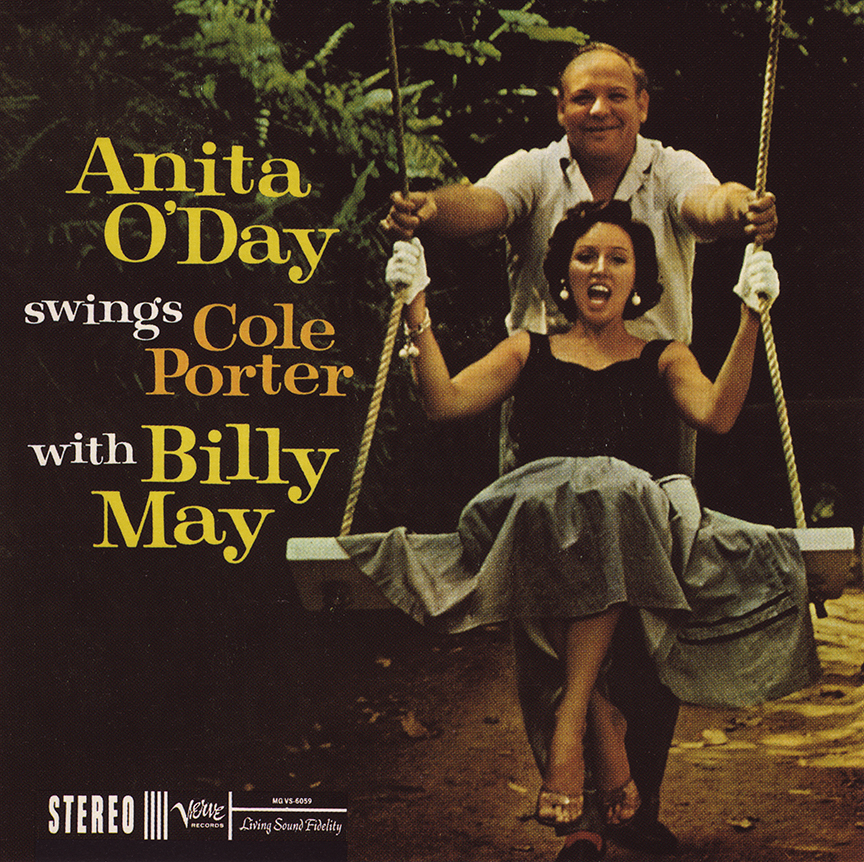 JUST ONE OF THOSE THINGS
YOU'D BE SO NICE TO COME HOME TO
EASY TO LOVE
I GET A KICK OUT OF YOU
ALL OF YOU
LOVE FOR SALE
GET OUT OF TOWN
I'VE GOT YOU UNDER MY SKIN
NIGHT AND DAY
IT'S DE LOVELY
I LOVE YOU
WHAT IS THIS THING CALLED LOVE
If the question most often put to songwriters is "Which comes first – the words or the music?" the question the songwriter himself most often asks is "Where can I get my songs sung well?" This recording should convince Cole Porter that he, at least, has found a girl who does right by him. For Anita O'Day is not only one of our most eminent jazz vocalists, she is an inspired interpreter of this, our finest composer-lyricist.
A songwriter's life is not an easy one. He must worry either that his songs get too small a play or, paradoxically, that a few standards get so much circulation that they wear themselves out. The singer, also, has to consider the problem of the too-familiar song. But Anita O'Day is a courageous, even outspoken, girl. She has not only drunk deep of vintage Porter; defying no admonitions, she and Billy May have poured this old wine into new bottles. This is not the first time Billy May has made an all-Porter album; but his arrangements are tailored to his singer, and he has here improvised some of the most attractive endings these songs have ever received. Of this merger of May and O'Day? – in Anita's own phrase, "Man, it's a ball!" She has said, "Jazz to me is singing what is happening now." And these songs have never sounded more of-the-moment.
The Cole Porter who supplied this session with its wilt and melody was born June 9, 1893 in Peru, Indiana – a fact to confuse anyone who believes in environmental influences. We have since realized what he really is: the man of mystery with the Venetian palace, the Paris home on the Rue Monsieur, the suite in the Waldorf Towers, the Bel Air estate – the man of the world who, like his lyrics, has always managed to stay just a little out of it. Porter did not have to work for a living; ironically he has earned one of the biggest of ASCAP incomes and if his inheritance had not provided him with the opulence of a potentate, his songs would. He has been sung by the biggest names in show business; and the average run of the productions represented on this album is only slightly under 300. In his life as in his work he has lived with a flair and a style, and his present interpreters well set off the vitality and charm of this perdurable talent.
Side One: "Just One of Those Things" (jubilee, 1935) demonstrates how a Porter standard, when raised aloft and swung with Anita's unusual phrasing, can be come a bright new banner. Most sing this as "JUST one of those things," but Anita reads it "Just ONE…", giving an always-nonchalant lyric a singular insouciance. You'd Be So Nice To Come Home To" (Something to Shout .about, 1943 film): That old tune detective Sigmund Spate, insists that this is based on the opening theme of Sarasota's Zigeunerweisen. Perhaps…Easy to Love" Born to Dance, 1936 film) has Anita adding an "And Baby!" – a prelude to her doodling a scat phrase or two in the margins of the refrain. By holding back the lyric the second time through, she turns it into a commentary on the May arrangement. "I Get a Kick Out, of You, Anything Goes, 1934) brings the verse out to a slow1v direct piano; just when we see that Anita could smoke out any Park Avenue chanteuse, she drives into the refrain with her personalized staccato, giving one of the great Porter rhymes (high, guy, sky, idea) a memorable precision. "All of You" (Silk Stockings, 1955) were Don Ameche's famous solo in Porter's version of Ninotchka. "*Love for Sale" (The New Yorkers, 1930) has one of those maudlin lyrics which the years have not treated kindly. By hustling the tempo, giving it a South American beat, and improvising bridge music, Anita not only makes the song a jazz success; she redefines the character of the singer and gives this Depression blues a Sixties sexiness.
Side Two: "Get Out of Town" (Leave It to Me, 1938): Billy May's accompaniment stresses the sense of urgency in this souped-up, but sultry, appeal. "I've Got You Under My Skin" (Born to Dance, 1936 film) is the best example of a Porter lyric triumphing over a ludicrous title. The song probably traces from that earlier Porter concept: "Night and day, under the hide of me" on which Rink Lardner improvised seven wild parodies, including "Night and day, under the fleece of me / There's an Oh, such a flaming furneth burneth the grease of me." Despite Lardner's reservations, Anita's recording of "Night and Day" (The Gay Divorcee, 1932) presents a fine example of how an inspired singer can give a famous song the excitement of a first recording. It is not only in her unique phrasing ("the drip, drip-drip of the raindrops") but also in her elimination of unnecessary words. The explosive chain of images suddenly turns the song into a brilliant soliloquy, with Anita's voice bouncing like Ulysses' Mr. Bloom's over the fragmentary thoughts of a day. Mr. Spaeth insists this song has "an occasional reminiscence of Rimsky-Korsakoff I s Scheherazade music." Maybe, maybe not; certainly there is nothing about Anita's interpretation, which relates this song to the trite and tiresome readings it's too often had. "It's De Lovely" (Red, Hot and Blue, 1936) would obviously let the jazz singer improvise his own words. (Porter himself wrote at least four different refrains before the song was taken over as a DeSoto commercial.) Predictably, Anita stylishly avoids the obvious and holds straight to the lyric until she puts in her own tag. "I Love You" (Mexican Hayride, 1944) has in its release a typical trio of rhymes (a favorite Porter bridge trick) – "What Is This Thing Called Love?" (Wake Up and Dream, 1929), besides being the oldest Porter here, is given the most personalized treatment. By taking the first word of each line, hitting it hard and then waiting to admit the rest of the words, Anita has completely redefined the song, making it the sotto voce complaint of a puzzled queen of jazz. Down to its dissonant finish, it is a fine reading and a great period to the set. To appropriate a Porter line, "Night and O'Day, you ARE the one!"
LAWRENCE STEWART
Cover Photo: Bill Rotsler, Art Direction: Sheldon Marks